Exclusive: Government Activating FEMA Camps Across U.S.
<p>
Kurt Nimmo
and
Alex Jones
Infowars.com
December 6, 2011
Infowars.com has received a document originating from Halliburton subsidiary KBR that provides details on a push to outfit FEMA and U.S. Army camps around the United States. Entitled
"Project Overview and Anticipated Project Requirements,"
the document describes services KBR is looking to farm out to subcontractors. The document was passed on to us by a state government employee who wishes to remain anonymous for obvious reasons.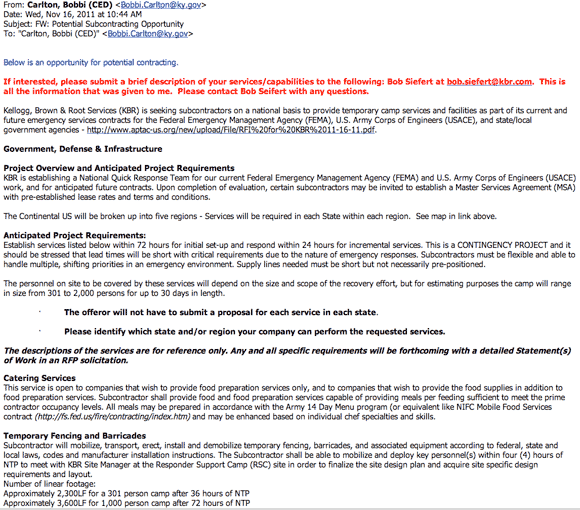 Services up for bid include catering, temporary fencing and barricades, laundry and medical services, power generation, refuse collection, and other services required for temporary "emergency environment" camps located in five regions of the United States.
Internment Camp Services Bid Arrives After NDAA
KBR's call for FEMA camp service bids arrives soon after the
Senate overwhelmingly passed the National Defense Authorization Act
(NDAA) which permits the military to detain and interrogate supposed domestic terror suspects in violation of the Fourth Amendment and Posse Comitatus.
Section 1031 of the NDAA bill declares the whole of the United States as a "battlefield" and allows American citizens to be arrested on U.S. soil and incarcerated in Guantanamo Bay.
A number of civil liberties groups have come out in strong opposition to the legislation, most notably the Japanese American Citizens League (JACL), the nation's oldest and largest Asian American civil and human rights organization.
In a
letter addressed to Congress
, S. Floyd Mori, the national director of JACL, said the NDAA is the first time that Congress has scaled back on the protections provided by the
Non-Detention Act of 1971
. Mori said the legislation, if enacted and put into use, would be reminiscent of the unconstitutional indefinite detention of Japanese Americans during World War II.
From M.o.1
-- Still think that these controllers haven't declared war on the American people? We've been telling you that these camps are here and are just waiting to be activated. The thing is that they can't just roll up and say "Go to the camps".......there has to be a precedent in order to get people into them. What is coming? There could be a number of things but the first one on the list is economic collapse......the government knows something is coming.
Si Vis Pacem, Para Bellum