DHS Cellphone Alert System 'Follows You Around'
Presidential messages to have their own distinctive ring tone
Paul Joseph Watson
Infowars.com
Monday, June 25, 2012
Not only does the Department of Homeland Security's new emergency alert system force cellphone users to receive text messages directly from President Obama, it also "follows" the user wherever they go, according to newly released details of the program.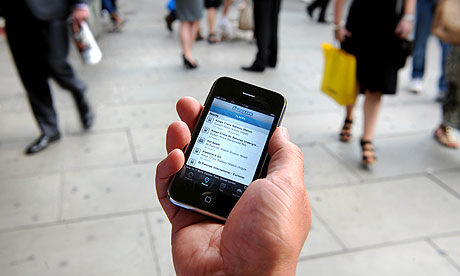 As we reported last week
, Apple's eagerly awaited iOS 6 update for iPhones and iPads will feature the alerts, along with updates of other operating systems. All new cell phones will be required to comply with the PLAN program (Personal Localized Alerting Network), which will broadcast emergency alert messages directly to Americans' cell phones, either through chips directly embedded in new phones or with software upgrades for older models.
According to Todd Krause, the weather-warning coordinator at the National Weather Service's Chanhassen office, the WEA alert system tracks cellphone users wherever they go in order to deliver region-specific warnings.
"What the system does is actually follow you around wherever you are going," based on users' proximity to cellular towers,"
Krause told TwinCities.com
.
The fact that the system will empower Big Sis to "follow" cellphone users around the country has been kept under wraps until now, and is sure to prompt a firestorm of criticism from privacy advocates on both the left and right.
Since almost everyone who is active in public life now has a cellphone and carries it at all times, such a tracking system is barely much different from having an implanted microchip that constantly beams out your location. Indeed,
newer microchips for cellphones
can now pinpoint a user's location down to just a few centimeters.
While users can opt out of receiving extreme weather alerts and Amber alerts, messages sent from the president will be mandatory, and will even have their own distinctive ring tone.
"The new 90-character-or-less alerts resemble regular texts but are a different form of messaging that includes a distinctive ring tone and also makes a device vibrate," states the report, adding that the messages will be able to circumvent potential cellular disruption that would prevent ordinary messages from getting through.
"If the United States faces a nationwide crisis of some sort, the president can transmit a mobile alert that pops up automatically on phones across the country," adds the article, noting that cellphone users will not have to fiddle around with apps to receive the alerts.
Confirming earlier reports, the story notes that users, "can't block presidential alerts."
As we have previously highlighted, early
tests of the emergency alert system in New Jersey caused panic
after Verizon customers received text messages warning them that a "civil emergency" was in progress and to "take shelter," prompting alarmed citizens to flood 911 lines with anxious calls.
Verizon Wireless later apologized to its customers for causing alarm, admitting that the confusion was caused by a "test" of the PLAN emergency alert system.
As we have documented
, the PLAN program is part of the wider move on behalf of Homeland Security to create a public environment dominated by a pervasive sense of fear and paranoia, a context in which the safe exercise of constitutional freedoms doesn't normally thrive.
Concerns have also been raised
at the potential for the federal government or the Obama presidential campaign to use the messages to create unwarranted fear for political purposes.
The emergency alerts are eventually designed to be
incorporated into the Intellistreets system
which turns all street lights into surveillance hubs that can record conversations and broadcast messages.